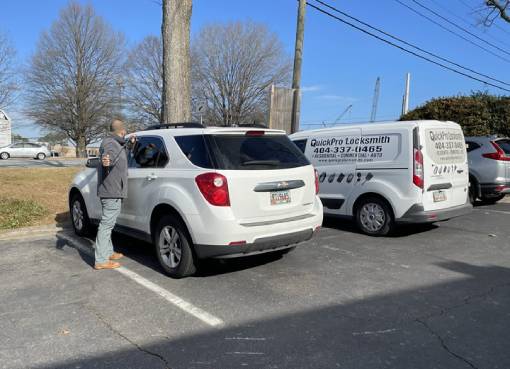 Auto Locksmith
Are you struggling with automotive lock or key issues? Let the team at QuickPro Locksmith get you safely back on the road. Our experienced mobile locksmiths are always ready to come to the rescue. We proudly offer high quality services including ignition repair and replacement, auto lockout assistance, transponder key programming, lock changes, car key duplication and key replacements. Speak with our specialists today and find out what we can do for you.
For quick, professional automotive service, call QuickPro Locksmith in Atlanta. All of our technicians are certified, insured, and experienced, meaning we are equipped to handle all automobile brands. Our service providers are always available and will come to you in emergency situations. Many of our services can be performed on-site, without hassle and in no time at all.
What Kind of Services Do Auto Locksmiths Offer?
Whether you need an extra set of car keys for your teenager or a new employee, or you are stuck in a downtown parking garage on the weekend, our technicians will make sure you are safe and back on schedule right away. We offer an incredible variety of premium services for local drivers, so call our office to discuss your needs one on one. Our specialists will create a customized solution that is sure to fit your needs and budget.
Benefits of Calling a Mobile Auto Locksmith When You Need Help
A few years ago, when someone was locked out of their vehicle, it often meant canceling the entire day's plans. The process could be expensive, since drivers usually relied on tow truck services and local car dealerships to get their car back in operational shape. Now, thankfully, such hassles and unnecessary costs can stay in the past where it belongs. Today's mobile locksmiths have access to advanced tools and equipment that can be taken along for the ride, so technicians can perform your key duplication, car key replacement, key fob programming service or ignition repair on site. You get improved convenience while saving more money, so the next time you are dealing with an unexpected automotive lock or key problem, give our specialists a call.