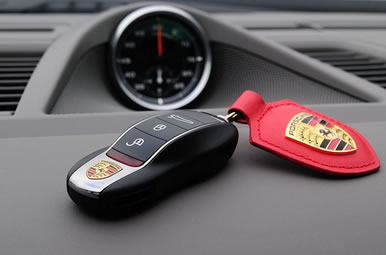 Porsche Key Replacement
Porsche Key Replacement
If you need a competent locksmith who has all that it takes to handle your Porsche key replacement, QuickPro Locksmith is the right company to call. With years of experience providing premium automobile locksmith solutions, we have qualified professionals who can cut and program your Porsche replacement key.
Our list of Porsche locksmith offerings also includes remote key troubleshooting, remote battery replacement, key cutting and programming, and other Porsche lock services. Speak to our knowledgeable staff today and let us send you a local professional.
We Guarantee Professional, Quality Porsche Key Fob Programming Service
Have you damaged or inadvertently lost your Porsche key fob? Don't fret but contact QuickPro Locksmith for a replacement. By reaching out for help fast, you wouldn't be stuck at the roadside or in your garage.
As an established locksmith service provider, we are aware of the latest in Porsche replacement key programming. Regardless of the Porsche model you drive, a nearby locksmith from QuickPro Locksmith will program your new key so you can hit the road very fast. For immediate key replacement, the solution is a call away.
Porsche Smart Remote Key Repairs
It's time to ask for help when discover that your your Porsche remote keys are malfunctioning. Acting fast will save you the stress and embarrassing moments of a car lockout situation. Don't put your Porsche key repair needs on the backburner; rather, contact locksmith in Atlanta right away for an immediate solution.
Our local service professional will check the remote, your car's door core lock, the immobilizer, and other parts of your keyless entry system to pinpoint the cause of the problem. Our locksmiths are equipped with the right tools and specialty equipment to get the issue or problem solved.
No matter the type of the key, we can service Porsche mechanical key, fob key, and everything in between. Contact Locksmith QuickPro Locksmith today for professional Porsche key repairs
Why Choose Us?
Expert Porsche Lock Solutions
QuickPro Locksmith is a trusted company that makes use of qualified professionals. Our licensed, insured, and bonded locksmith are aware of the latest Porsche keys programming procedures. Don't keep looking around or online for "Porsche key replacement near me," contact us without any delay and let a professional help you.
Whether you are left with just one key or need to replace a stolen or damaged key, contact QuickPro Locksmith for expert key replacement and activation.
Porsche Key Fob Programming at Affordable Rates
Using the dealership for your key replacement is going to cost you more. Besides being too expensive, you might have to wait for hours before getting the replacement done. When QuickPro Locksmith makes a new key for your Porsche, you'll spend only a fraction of what a dealer charges.
Need a Porsche Replacement Key? Give QuickPro Locksmith a Call Today
Perhaps you are facing an emergency car lockout situation or need to get an issue with your fob under control, let a professional from QuickPro Locksmith come to the rescue. Our emergency services allows you get the needed help quickly and wherever you are. For immediate and professional Porsche key replacement or other key solutions, contact, QuickPro Locksmith today.