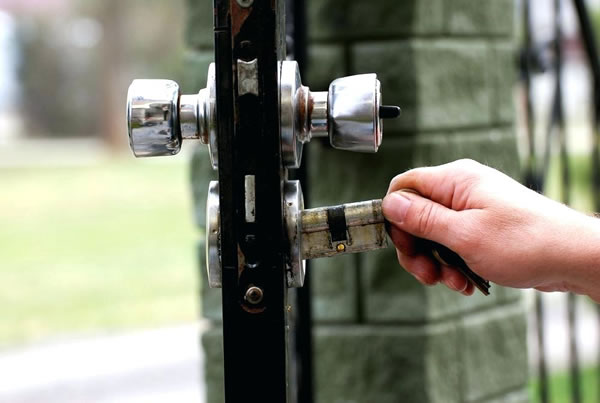 Outdoor Gate Lock Options
Outdoor Gate Lock Options
Your home or commercial premise can be secured in diverse ways depending on the type of gate you have. You may want to contact QuickPro Locksmith for the most efficient gate lock option that will suit your needs.
When it comes to outdoor gate lock options, there are basically three types you can choose from, these are; Keyed locks, Keyless locks, and Electronic gate locks.
The Keyed Gate Lock Options
The keyed locks are the commonest outdoor gate lock options you can consider. They include the deadbolts, levers and door knobs.
The keyed gate locks come with the price advantage and can be easily installed. The keyed hardware is not as costly as other options and your gate can be modified to work efficiently with the brand of lock you choose. Keeping track of the key to the keyed gate can be a downside of this option. If you don't mind keeping an extra key to access a keyed lock, then it is a cost-effective option for your home or office.
The Mechanical Keyless Gate Locks
The convenience and flexibility of mechanical gate locks make them more desirable. They come with codes to access them and these codes can be changed by the owner at any time. It is important that your gate must be configured to work with keyless locks, and this could add to its cost of installation.
The mechanical keyless gate locks are less expensive than electronic locks, but it can be pretty difficult to change the code since the wafer pins inside the lock must be re-arranged. Changing the code of mechanical locks, the locking system must be taken apart, hence you need a certified local locksmith technician to handle such procedures. Another benefit of mechanical keyless gate locks is that they do come with long-term warranties, depending on the manufacturer.
Fortunately, you can get a reliable and cost-effective mechanical keyless gate lock installation services from QuickPro Locksmith. Please give us a call today!
The Electronic Keyless Gate Locks
The Electronic keyless gate locks are more effective and more convenient than the mechanical and keyed gate locks. They are good for both residential and community gating and they offer support for multiple codes at the same time. You don't need to dismantle these locks in order to change or reset the codes.
Electronic keyless locks are the most expensive of all the types of gate locks around but they offer more value for their prices.
Are You in Need of An Efficient Gate Lock? Contact QuickPro Locksmith
Securing your home or office by Installing the right gate lock is not the end of the process. Your gate must be modified to work with the chosen type of lock. Please contact us at QuickPro Locksmith and our technician will inspect your gate to see the necessary modifications to be carried out to ensure that the gate lock works efficiently on it.
We have the tested and trusted locksmith technicians with certifications and years of experience in gate lock installation and repairs. Please give us a call today and we will be right there to help you!