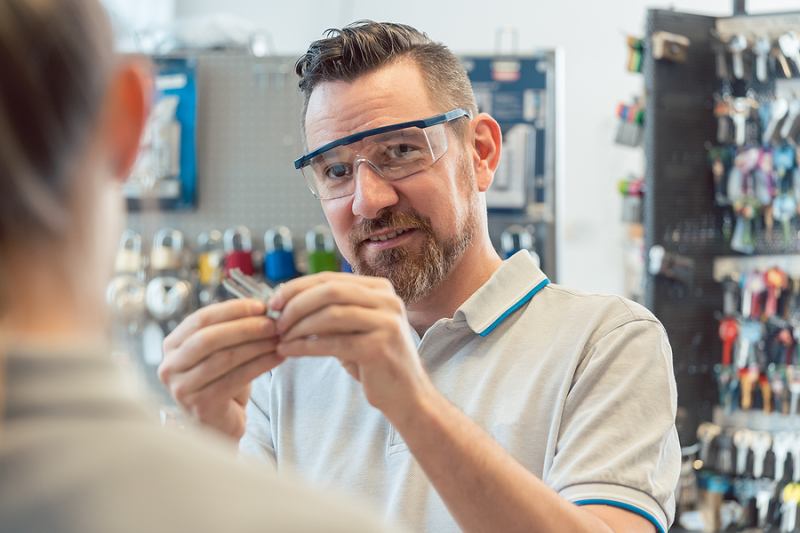 Why Choose a Locksmith Instead of a Handyman?
Why Choose a Locksmith Instead of a Handyman?
If you've ever questioned why hiring a locksmith is preferable to a handyman, you've probably encountered a complicated issue.
Perhaps your locks jammed, you are locked out or the door refused to close!
Whenever the problem is about locks and your security system, the ideal person to complete such task is a locksmith.
Is it sufficient to only state that a locksmith is an ideal candidate for the position without citing any justifications? Well, in this article, we'll look at some of the benefits of hiring a locksmith instead of a handyman, whether you're a landlord or a homeowner.
Why Use a Locksmith Instead of a Handyman?
In the belief that they can complete the task more cheaply, many consumers choose the services of neighborhood handymen over those of licensed locksmiths. However, there is no alternative to trained locksmith services, as many house and company owners have learned from personal experience.
Key benefits of hiring a professional locksmith instead of a handyman:
Skill And Expertise
It goes beyond the experience alone. They had official training before starting in the field. It is a prerequisite for any locksmith to undergo training before getting licenses and insurance. Due to their technical proficiency and years of experience, locksmiths are the best experts to handle your damaged or broken locks.
Years Of Experience
Most of us only encounter home issues sometimes throughout our lives, just like the handymen repairers, thus, it is nearly difficult to learn everything there is to know. Professionals locksmiths, however, have years of relevant expertise. Houses are unlocked almost every other day. They have extensive experience handling several locks without causing harm.
Availability Around The Clock
Locksmiths offer round-the-clock emergency services, unlike handymen. Most locksmiths go above and beyond to offer prompt and effective responses to maintain a stellar reputation. Therefore, a clear advantage of calling a professional locksmith is that you don't have to worry about the time of day. They offer their top-notch services whenever you need them, whether it's late at night or during the day.
Quick Responses
When you are locked out of your house, all you need to get back on track is a quick rescue. Most trustworthy locksmiths offer quick turnaround times to save their customers from awkward situations. Many of them can reach you within a short time.
Since professional locksmiths are prepared to handle any emergency, you won't have to wait for hours waiting for a handymen who may not have the expertise to complete the task.
Specialized Services
If your home is secured with a pricey brand of locks, you could need expert services. In the event of any serious crime, you will need the help of forensic locksmiths. They acquire a range of training to get them ready to provide particular services. Asking about someone's area of expertise before hiring them is highly recommended.
Your Safety
There is no denying the fact that your safety is very important. You can be certain that house locks are providing the necessary security with the technical knowledge and skill of a locksmith. They can be used to assess the security system in your house. When using a handyman, it might be challenging to know for sure how safe you are.
Affordability
Homeowners typically decide against hiring handymen to complete repairs or replacements to save a few bucks on service fees. Any errors made in the process while working could cost you whole replacements.
Looking for a professional locksmith to unlock all the benefits in this article and more? Look no further as QuickPro Locksmith, a leading locksmith service provider is here to serve you with just a simple click.