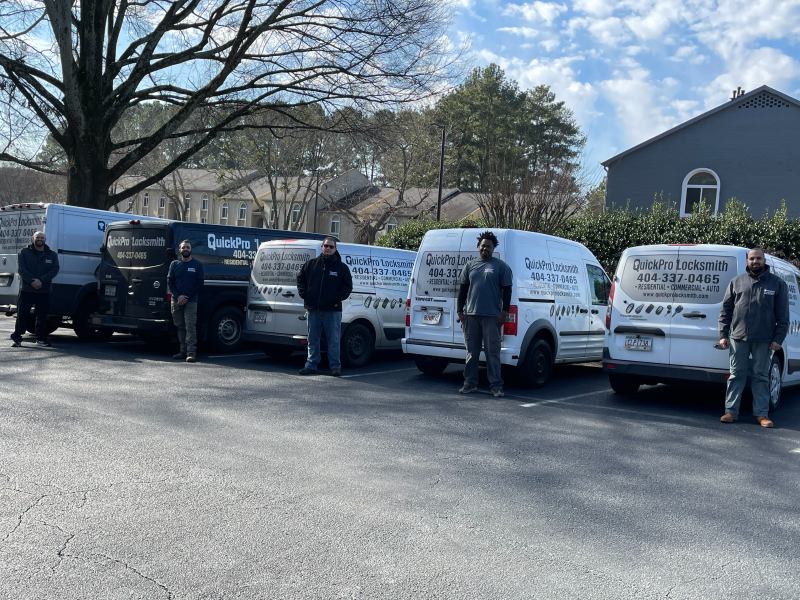 Locksmith Tips and Tricks
Locksmith Tips and Tricks
Locksmiths are the go-to experts when we have issues with our locks and doors. But, you don't know that they have loads of tips and tricks to maintain your locks. So, if you are reading this article, you are in luck! We will look at top tips and tricks for your home given by a professional locksmith with long-term experience.
Before we proceed, remember that you should call a professional locksmith for all your lock-related problems. Fortunately, QuickPro Locksmith is at your service anytime. We provide you with a professional and knowledgeable locksmith at affordable prices. In addition, we are fully mobile, so you don't have to worry about getting to you in time.
Just Moved Into A New Home? Change The Locks!
Supposing you are a new homeowner, congrats! However, in addition to the renovations and new paints, you've got to change your locks. You can never tell whether the former occupants have given the keys out to individuals interested in raking your home. Therefore, always changing the locks when you move into a new place is important. To reduce costs, go for lock rekeying instead of changing the entire lock. QuickPro Locksmith is at your service for lock rekeying and other services.
Pay Attention to Your Front and Back Door Locks
If you are to spend the most money on locks for any part of your home, it should be your front and back doors. The front door is still the primary access for most burglars, thanks to the cheap locks that most homeowners use. Front statistics, 34% of burglars enter through the front door. Therefore, you need to invest in high-quality locks for your front door. Speaking of locks, we recommend a deadbolt lock in addition to your primary locks. Also, if you buy locks, ensure you go for ANSI Grade 1 locks.
Keep a Spare
Most emergency lockout services can be avoided if the homeowners keep spare keys. A good way to avoid spending extra money on locksmith services is to keep a spare with a trusted friend or relative. To do this, you need a key duplication service which QuickPro Locksmith also offers.
Go For an Auto Locksmith Instead Of a Dealership
The first place to think of when replacing and reprogramming your transponder keys and key fobs is a dealer, but that is not always the best option. An auto locksmith has all the equipment and expertise to replace your transponder keys and key fobs at a lower price.
Buy Top-quality Doors
Doors have a huge role to play in the overall security of your home. Ensure you go for doors made from solid materials like strong wood and steel, especially for your front and back doors. For your locks to function effectively, it also needs strong doors to hold things in place.
Always Contact a Professional Locksmith
Whenever you have lock-related issues, the first thing to do is to contact a professional locksmith. Locksmiths have all it takes to handle any lock problem. So, rather than go for DIY, call a Locksmith – you will be glad you did!