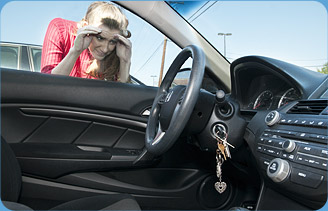 Locksmith in Roswell, GA
Sooner or later, we're all going to lose something. It's human nature. Among the common items to be misplaced are eyeglasses, wallets, phones and keys. On that list, the easiest thing to replace would be your keys. At least it would be easy if you call QuickPro Locksmiths to handle the job. We're the number one certified locksmith serving all of Roswell. There is a long list of reasons why you might need a locksmith. Here are a few of those reasons to think about:
Emergency Lockout
Have you experienced that sinking feeling of closing a door and knowing you just locked your keys inside? That could be inside your home, car or office. Now what? If you have the number of QuickPro Locksmith programmed into your cell phone (like you should!), then you're just moments away from gaining reentry to your property.
When you call the QuickPro dispatch center, we'll have one of our experienced locksmiths heading your way immediately. You can't predict when an emergency lockout might occur. Because of that, we have locksmiths on-call around the clock. They will be able to respond late at night, over a holiday weekend or during regular business hours. The goal is to get you back into your property ASAP. One call to QuickPro puts that plan into action.
Lock Replacement
One of the first things a responsible apartment manager does when a tenant moves out is to replace the locks. Even with a former tenant in good standing, it will provide you with peace of mind knowing that you are the only owner of the key to your front door. If your apartment manager doesn't offer that service, QuickPro Locksmith can take care of it for you. They can provide the same lock replacement service for your home and business.
Duplicate Keys
Making copies of keys requires a proper grinder tool and a very large selection of blank keys. Each of the QuickPro Locksmiths that serve Roswell has the ability to make as many key copies as you need right on the spot. The mobile units have a full complement of locksmith tools, key grinders and blanks. That includes most common makes of automobile keys.
Security Review
The QuickPro Locksmiths have been trained to spot weak areas in your home or business security. They can recommend lock upgrades and other security enhancements that can be installed in a single service call. Your security is not something you should leave to chance. Just as the robbers are getting smarter, so are the lock manufacturers. The QuickPro Locksmiths are certified on every new lock system that comes down the pike. This way they'll be able to recommend the very best type of security system for your property.
Master Key
If you're tired of carrying around dozens of keys, QuickPro Locksmiths can simplify your life by rekeying all of your locks to fit a single master key. This will cut back on searching for the right key when trying to get into your home. It can also make things easier on your family when it comes to tracking which key goes to which lock.
The QuickPro Locksmiths are just a phone call away. These locksmiths are licensed and insured. Call today for a free estimate for all of our lock services. If you'd like to schedule an appointment for lock replacement or duplicate keys, we can often provide same day service. Most importantly, make sure you enter the number for QuickPro Locksmiths into your cell. You might get stuck without your keys but you shouldn't get stuck without QuickPro Locksmiths.