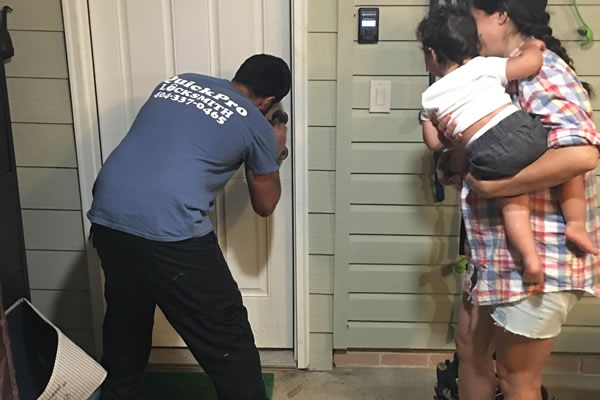 What to Do When You're Locked Out?
What to Do When You're Locked Out?
Having to deal with a home lockout can be a frustrating situation! Don't worry, this article will list some DIY methods you can try.
Please only break the lock during an emergency involving a toddler or a pet. If it is not, call a locksmith service provider to save the day. Having a locksmith to handle the lockout situation is less expensive than damaging your door. So, do you have a home lockout situation? The steps here can help!
Look For someone to Help
In case you have a key buddy or a family member with a spare key, they could send it to you. Also, the landlord or facility manager could come to your rescue by providing a spare key. However, be aware that a lockout fee may be associated with the service but it is a better option than breaking your lock and causing nuisance in the neighborhood.
Use an open Window or Door
While this is not advisable to leave your window open because of your home security, it can help here. You can use an unlocked backdoor to get into the house.
As earlier stated, leaving either door or window open is not advisable. So once you get into the house and get your keys back, ensure you lock any open entrance to prevent criminals from gaining access.
Call a Locksmith Service
If you cannot get any help from anywhere, your family and friends, there is always another option which is to call a locksmith service. Locksmiths are trained and have the equipment and expertise to open your locked door with specific tools.
If you need a locksmith to help you with a lockout service, remember that QuickPro Locksmith is always available. We have trained locksmiths on standby that will give you a door lockout service when you call us.
Use Your Credit Card
Well, your credit card is for more than just your cash transactions. It can also be used as an improvised unlocking tool. However, note that using your credit card might damage it, so ensure you use a card you can bear to lose.
Take the plastic card, plunge it between the door frame, and try to detach the door latch. This strategy doesn't work for deadbolt locks, but if you have a standard door, this can help.
Take Apart the Door Knob
Check your car for a screwdriver, hammer, and paperclip, or get them from your neighbors. You can remove the door's screws with a screwdriver and the hinge screws with a paperclip.
After disassembling the door knob and you now get into the apartment, couple it back to avoid giving thieves the chance of gaining access to your home.
Conclusion
We have listed some options in this article that will help when you experience a door lockout. However, avoid damaging your lock when you opt for any DIY options above. You can always hire a locksmith service to help. This will help you avoid dealing with the stress of using your credit card or scaling your window.
Remember, QuickPro Locksmith will always have your back! We have a trained locksmith that will come to your aid during a lockout emergency. Call us to get you started anytime your keys are missing, stuck, or damaged. Our mobile locksmiths can fix any lock-related issue.